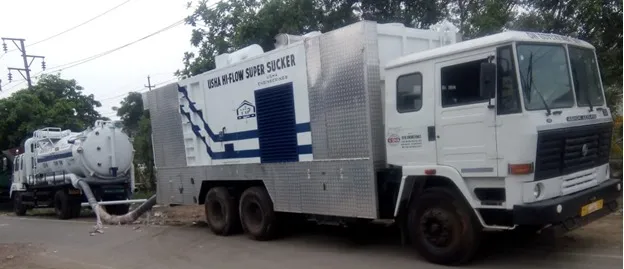 Super Sucker Machine
Brand: TPS
Capacity: 01 Number
Sewer Pipeline Diameter: 900 mm
Introduction
Super Sucker Rental Services in Delhi, Super Sucker On Rent in Delhi, Super Sucker On Hire in Delhi, Super Sucker Rental Company near me in Delhi. Are you looking for reliable Super Sucker Rental Services in Delhi? Do you need to clean up your industrial site or remove hazardous waste but don't have the equipment to do it? Look no further than Accura Infra! Our rental services in Delhi provide top-quality super sucker machines that are perfect for any job. In this blog post, we will guide you through choosing the right rental service and explain why Accura Infra is the best choice for all your super sucker needs. So, let's dive into it!
Super Sucker Rental Services in Delhi
Are you in need of efficient solutions for industrial cleaning or waste removal? Super Sucker rental services could be your answer. These powerful machines are capable of removing both wet and dry materials from various surfaces, including floors, walls, tanks, and pipelines.

In Delhi, there are several companies offering super sucker rental services at an affordable price. With a quick search online, you can easily find the best options that fit your specific needs.

The key to choosing the right super sucker rental service is to consider factors like experience, reliability, pricing models and equipment quality. Look for providers with a good track record in delivering effective solutions for industrial cleaning and waste management.

At Accura Infra., we take pride in our exceptional customer service and top-of-the-line equipment. Our team consists of highly trained professionals who will deliver the results you need while adhering to all safety standards.

Don't let dirt or debris slow down your operations - contact us today to learn more about our super sucker rental services near you in Delhi!
How to choose the right Super Sucker Rental Service
When it comes to choosing the right Super Sucker Rental Service in Delhi, there are a few key factors that you should consider. First and foremost, it's essential to look for a company that has experience in providing high-quality equipment and services at affordable prices.

Next, you should consider the range of services offered by the rental company. Look for a provider that offers a variety of equipment options so that you can find exactly what you need for your specific project requirements.

Another important factor is reliability. Make sure that the rental company has a reputation for delivering equipment on time and with minimal downtime or maintenance issues during use.

It's also worth considering customer service when selecting a Super Sucker Rental Service. Choose a provider who values their clients' satisfaction and provides prompt and helpful responses to any questions or concerns.

Be sure to compare pricing between different companies before making your final decision. Look for transparent pricing structures without hidden fees or charges so that you can get an accurate picture of how much your rental will cost upfront.
Why Accura Infra ?
Choosing the right super sucker rental service in Delhi can be a daunting task. However, with Accura Infra, you can rest assured that your needs will be met in the most efficient and cost-effective manner possible. As a leading rental company in Delhi, we have years of experience providing top-notch services to our clients.

Our team at Accura Infra comprises highly qualified professionals who are dedicated to ensuring that all our clients receive exceptional service. We take pride in offering affordable prices for our super sucker rentals without compromising on quality or safety.

When you choose us as your preferred rental services provider in Delhi, you can expect timely delivery of equipment and prompt pick-up once the job is completed. Our customer support is available 24/7 to address any concerns or questions you may have about our services.

If you are looking for reliable and affordable rental services near me in Delhi, look no further than Accura Infra – your trusted partner for all your super sucker rental needs!